Sonia Rykiel, who died yesterday at the age of 86, defined the whole idea of French chic in all its sexy, sassy, nonchalant, slightly arrogant glory. In many ways she took up where Coco Chanel left off, giving women permission to be gamine, boyish and free. It is no coincidence that her first shop at the epicentre of Paris's lefty, arty bohemian scene on Rue de Grenelle in St Germain, opened in May 1968, the same year the students were storming the barricades.
Hers was an altogether new attitude for a designer, one she shared with Mary Quant in London, who had been busy making hot pants and mini skirts during the same period, designed so that women weren't restricted by their clothes. "1968 was the beginning of the hippie movement in fashion," she told W magazine in 1997. "That movement made fashion change completely. It was not necessary to be always dressed up. You could be dressed the way you wanted – it was absolute freedom."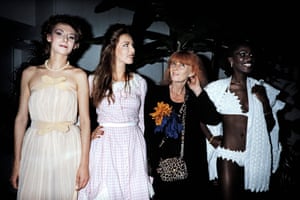 For Rykiel, femininity was about being at one with your sexuality, but not defined by it. Her knitwear moved with the body, not against it. Her trademark stripes – often with disco Lurex knitted into them – were sporty and fun. She never took clothes too seriously; rather, they were there to service a woman's life. Her knitwear was never encumbered with padded shoulders, she made folky quilted jackets long before Isabel Marant, and she liked to (literally) turn clothes inside out and expose the seams. She was also the first designer to make clothes for a mass-market mail order company – Les 3 Suisses in France – and the company went on to collaborate with La Redoute in 1995 and H&M in 2009. In many ways, she was one of the first to recognise that fashion designer needed to climb down from their ivory towers and offer affordability in fashion.
When the company also started selling lingerie, erotica and sex toys on Rue de Grenelle in 2002, Rykiel's daugher, Nathalie said: "My mother strove to liberate women. [Forty] years ago, she told them to ditch their bras under her little poor-boy sweaters. She told them to embrace liberty. Now we are being provocative in another way." It didn't translate quite so well when it crossed the channel. English women were still not quite so liberal and unfettered as their French sisters.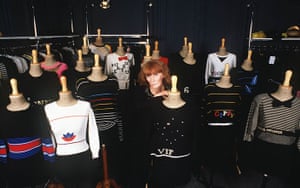 It was, of course, quintessentially French. The first garment she made was a maternity dress for herself: a sweater dress (although she didn't actually knit) that showed off her pregnancy in all its glory. She revelled in the female body and wanted to accentuate its curves – not to make women feel self-conscious but so they could say: "This is who I am. Aren't I sexy and powerful!" Unlike the harder sexual appeal of a Saint Laurent sheer blouse with a tuxedo suit, Rykiel's sexuality came from a woman's perspective. These were clothes to make women feel sensual and natural. The true French woman would wear a Rykiel skinny rib jumper without a bra. It would be like a second skin.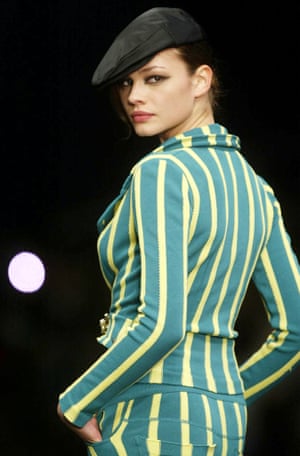 In 1971, Rykiel launched her first slogan sweater with the word "SENSUOUS" emblazoned across it. It summed up her attitude perfectly – as well as that of her loyal followers who had found a kindred spirit in this bohemian French woman with her cloud of red hair and her smoky grey eyes.